My Life List
Become the architect of your life!
Most of us go through life as spectators, waiting for something to happen. My Life List is a tool to help you stop waiting and become more pro-active in your life, and your journey. Full of inspirational quotes, this book has an elegance and simplicity of design that makes it extremely easy to use. The concept is simple, yet incredibly powerful. You don't need to overcomplicate it.
The book allows you to list the things you WANT to do, and keep a journal of your adventure. There is a section to list the people you want to meet, and keep a record of your encounters. This book will become a unique chronicle of your life. A rare window with an exceptional view of who you are. It is something to show your grandchildren years after you have been using it. Wouldn't it be great to read your grandparents' LIFE LIST, one they kept from their early years? What a wonderful glimpse into their lives. So too, should you share your list with your children and grandchildren.
Stop waiting for things to happen and become the architect of your life. A great gift for yourself, to help create and accomplish your bucket list. A gift for your children to help them live life to the fullest. Get one for a graduate, a wedding couple, or any couple. Help them live the life they want. Start a Life List club, or have a Life List party. Share ideas and suggestions. Start living life the way you want. Let this book help you do it.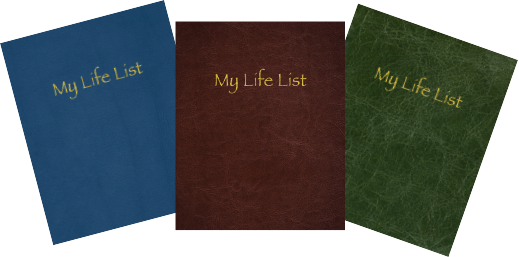 Three different cover styles to choose from.
Use it yourself or inspire someone!